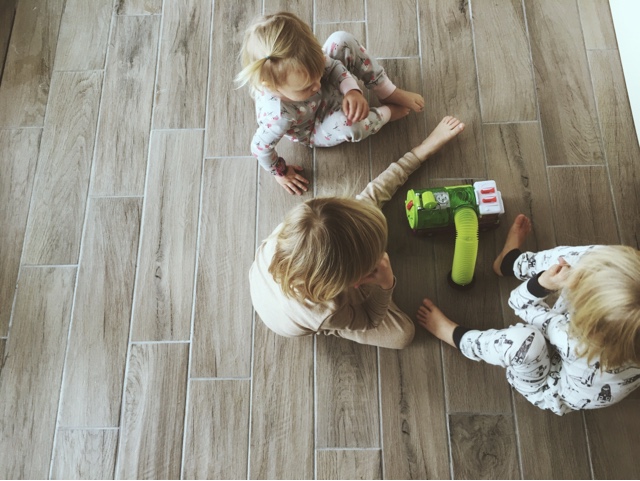 I can't believe it's the new year! We have some fun things heading our way for 2016 that I'm pretty excited about. It's going to be a great year, I can feel it in my bones! Christmas was perfect. We spent the week at Evans parents. They just moved into a beautiful new home a week before Christmas, and the fact that they already had stockings hanging over the fireplace when we got there, I was really impressed! I got pretty lucky by marrying into a such great family, they made it such a fun Christmas to remember.
Nixon was the first one up Christmas morning. He woke me up and just the two of us hung out while the others slept in. We watched the snow fall and peeked into a present or two while the warmth of the fire warmed our spirt. He was also so excited when he saw that Santa had eaten the cookies I left by the fire. (I actually almost forgot this year! so glad I remembered.)
When every one else FINALLY got up (in Nixon's words) we spent the morning taking turns opening presents. Gibson was so excited when she opened the twins from Santa that she was freaking out about in that video I posted on my insta a while back! And I was soooo excited when Santa found them at the store by Nana and Papa's house because they were all out at the store by our house! oh happy day. The boys were also very excited christmas morning because they got a few things that have been on their list for quite sometime!
After all the Christmas fun and excitement of ripping open all the presents, we played games and snacked while the little loves played with their new toys. –If you're ever in the market for some fun family games, Ticket to Ride and Teleastrations are some fun ones we played! Even the boys enjoyed teaming up with one of us to play.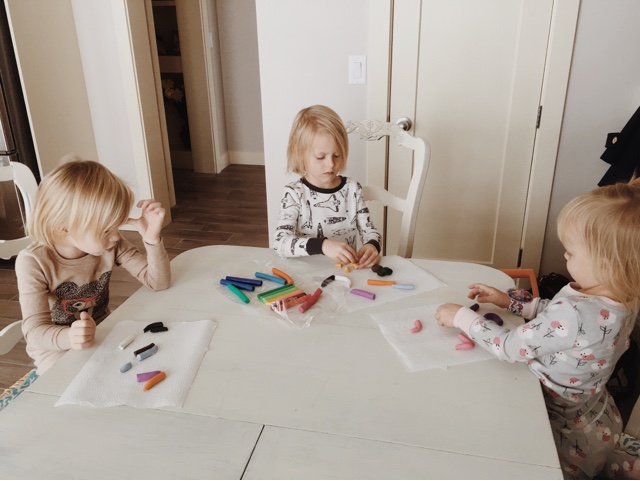 Later that night, we ended the day by reenacted the nativity while Evan read the story of Christs birth in the old testament. Gibson took her role as Mary very seriously. She used one of her twin babies she got from Santa as her baby Jesus. The boys also did a good job as playing a wisemen and a Shepard.
There was a moment when Evan was reading that everyone was quiet and still (a rare occasion for a 2,4 and 5 year old) but in that moment there was a a calm and peaceful feeling that God really is there for us and I also had a reassuring feeling that I'm doing a good job at raising these three sweet spirits. Being a good Mom to them is something I'm always trying to improve in, so this reassurance was like a answer to Mama worries.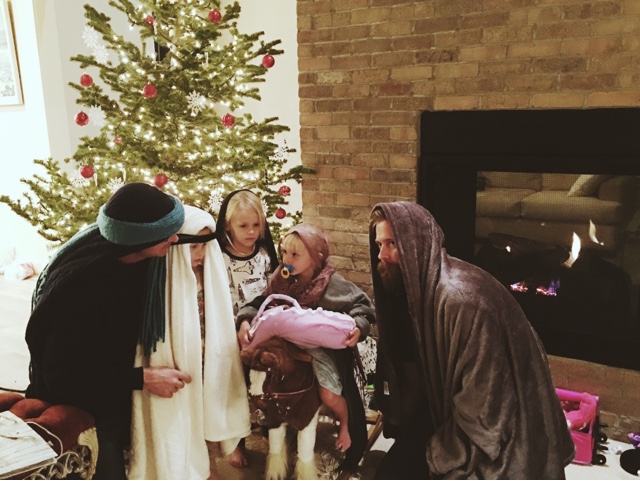 I'm so grateful for this family of mine and for my savior.
Hope you all had a very Merry Christmas and a Happy New year!
xoXox